So why is one more valid than the other? Aladdin sits in his street rat villa with an amazing view regarding the Sultan's palace and opines: 'Someday, Abu, things are gonna change. We'll be rich, live in a palace, and never have any problems at all.' We wipe a tear from our collective cheeks and nod our approval. Flynn Ryder (aka Eugene Fitzherbert) jumps on top of a bar and croons his dream consists of 'an island that I own, tanned & rested and alone surrounded by enormous piles of money.' But we cross our arms and assent when the hook-handed ruffian responds 'your dream sucks.' But why? Aren't they the same dream after all?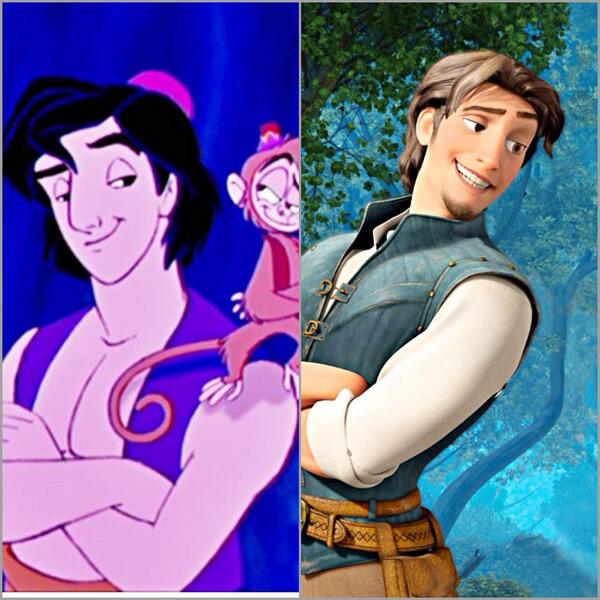 Aladdin and Flynn have a lot in common. Both come from poor, orphan backgrounds that led them to thievery as a means for survival. They both deceive the princess that they will later marry. They both even wear vests for goodness sakes! And both have dreams that center on a lavish lifestyle that has absolutely nothing to do with love of any other human but themselves. Sure, Flynn's dream specifically has him on an island by himself, but there are no others mentioned in Aladdin's fantasy either…besides his monkey.
Now, Aladdin does come around quicker to add love of an attractive lady into his happy ending so that is a definite plus for him. But Eugene sacrifices his life to free Rapunzel from the grips of Mother Gothel. That should put ole' Eugene in lead, right? Then why do I still feel that Rapunzel could have done better if she just wouldn't have latched on to the first man she met?  And why do I have a less unsettling feeling about Aladdin becoming Sultan than I do about Eugene becoming King…even if he had limited power under Rapunzel's rule. Why is that? Is it just me?
———————–
More to come. Follow me here —-> @DadsQuestions
Image Credit: Twitter